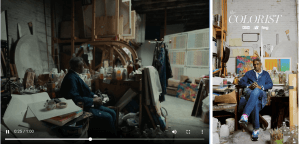 KITH features League Instructor James Little
As Part of "The Colorist" Campaign
"James Little is a prolific colorist who creates his own colors with pure pigment and heated beeswax and layers each hue multiple times in parallel brands on the canvas. He is also a professor of art, and is currently working on the frontage design of the Jamaica train station platform in Queens, NY." KITH was founded by Ronnie Fieg, a prominent figure in the footwear industry.
Watch the video
The Art Students League is chosen for a Wiki:

6 New York Organizations Expanding Access to Arts Education
The League is listed as number one in this list of 6 organizations expanding access to arts education. "An education in the visual or performing arts can give young people a creative outlet that helps them express themselves, expands their thinking, and improves their confidence.Sadly, many Americans, kids and adults included, miss out because of where they live or financial barriers. Thankfully, there are many great organizations based in New York working to ensure access for people not just in the city, but all over America and the world." Read more here.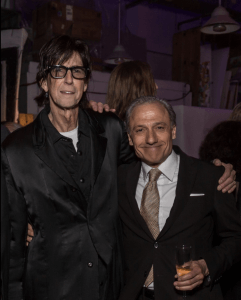 The League Mourns the Loss of Ric Ocasek
September 16, 2019
We are devastated over the loss of visionary musician and friend to The League, Ric Ocasek. We cherish the time that Ric shared with us at The Art Students League of New York and the warmth he expressed to our students and faculty. While Ric is best known as a songwriter, rhythm guitarist, lead singer of the band "The Cars," and producer for bands such as No Doubt, Nada Surf, Weezer, Suicide and Bad Brains, he was also an accomplished abstract painter. As with his music, he was relentlessly dedicated to his craft over showmanship. For Ric, music and art were complementary; "The process of drawing is the same as writing a song. They both start with a blank page" said Ocasek. "I see art everywhere…art is a frame of mind." Ric was a close friend of Michael Rips, Executive Director of The Art Students League of New York and will be deeply missed by the entire League community.
Pictured right: Ric Ocasek with League Instructor Dionisio Cimarelli at the first annual Art Students League of NY [STartUP] Gala at Art Students League in May 2018 in New York City. (Photo by Taylor Hill/Getty Images for The Art Students League of New York)
The Final Project Exhibition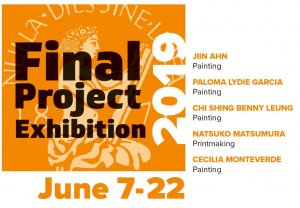 June 3, 2019: Five emerging artists from The Art Students League's esteemed Certificate Program will present their final projects in a public exhibition in The Phyllis Harriman Mason Gallery. Final Project Exhibition will be up June 7-22, 2019. Read more here.
The Art Students League on CBS2 News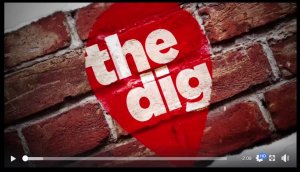 April 26, 2019: CBS2's Elle McLogan takes us inside The Art Students League of New York, a 'remarkable place known to too few people.' If you didn't catch the video live on Channel 2 News on Friday, April 26, you can watch the video here!
Michael Rips in the New York Times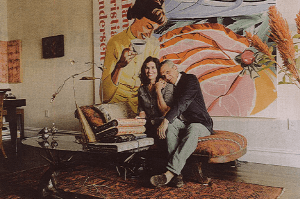 October 10, 2018: Michael Rips and Sheila Berger share their passion for art and collecting with the Times. "The apartment has long been filled with works by League teachers or students, including Robert Henri, Will Barnet, James Rosenquist, who was a close friend, and Ms. Berger, a sculptor who works in metal and maintains a welding studio at the school." Read more here.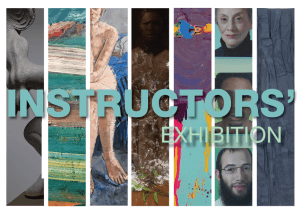 Now Open: The Instructors' Exhibition at The Art Students League of New York; Show Spans New Gallery Space at the League
September 4, 2018: The Art Students League of New York acclaimed Instructors' Exhibition, opens September 4. On view are paintings, prints, and sculpture in a wide variety of styles and media by 60 League instructors. The exhibition marks the opening of new first floor gallery spaces in the League's Lobby. A public opening reception will take place on Wednesday, September 5 from 5:30 to 7:30 at the Art Students League, at 215 West 57th Street (between Seventh Avenue and Broadway). Read more here.
Letter from Board President Tom Harvey
August 13, 2018: When I wrote to you recently, I said: "Hard as it is to imagine, the day will come — eventually — when we don't have cement trucks lined up on 57th Street and we don't need all that protective scaffolding. At that time, we hope to embark on a project to expand studio space at the League and generally improve our facility, realizing all the while we are landmarked and will be limited in what we can do that would change our appearance."" Read more here.
Rare 20th and 21st Century Masterpieces in
The Masters: Art Students League Teachers and Their Students Opening in October
August 1, 2018: A "subway series" painting by Mark Rothko; the fourteen Stations of the Cross by George Tooker; the bronze sculpture, Titanic Memorial, by Gertrude Vanderbilt Whitney; and Modiste, a full-length portrait of a young Spanish woman by Robert Henri are among the never- or rarely-publicly-viewed masterpieces that are included in The Masters: Art Students League Teachers and Their Students, which will open on October 18th at Hirschl & Adler in New York City.  Read more here.
Letter from Board President Tom Harvey
July 9, 2018: Board President Tom Harvey writes to the League Community on the recent lectures and presentations from "art super stars from both East and West coasts, as well as the Gulf coast… They come in large measure because of the regard they have for our Art Students League as one of the country's finest art schools." Read more here.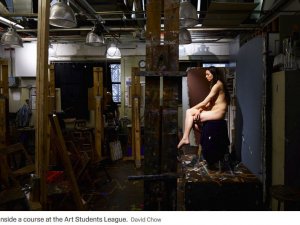 The Stories Behind 5 New York Art Scene Legends
June 18, 2018: "The art world, where the word contemporary gets thrown around as a kind of currency, is not known for its longevity. Artists, galleries, curators and even longstanding institutions tend to come and go without much ceremony, especially in New York, a city known for devouring its history and routinely replacing it with something newer and more expensive. Here, T looks at a few art-world survivors who have managed to stay relevant amid endless change." Read more here.
Artist Wayne Thiebaud to Meet with Faculty and Students at the Art Students League of New York
May 15, 2018: Renowned painter and art educator Wayne Thiebaud will address the faculty and students at the Art Students League on May 15. Represented by Acquavella Galleries in New York City and Paul Thiebaud Gallery in San Francisco, Mr. Thiebaud is also Professor Emeritus at the University of California at Davis and has made a lifetime commitment to nurturing the next generations of artists.  Read more here.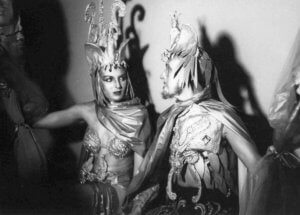 This 125-year-old art school had wilder costume parties than the Met Gala
May 11, 2018: "It's the place where Georgia O'Keeffe honed her painting skills and where Chinese dissident Ai Weiwei landed as an aspiring artist finding his voice in New York City. And on Saturday, the Art Students League is celebrating 125 years of creating headlines, chaos and groundbreaking art at its landmarked home on West 57th Street." Read more here.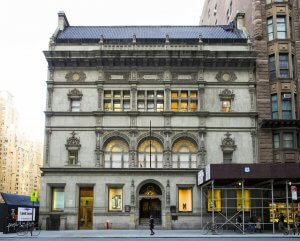 New York Today: The Art School Inside a Work of Art
May 7, 2018: "Across from the neon lights of the Brooklyn Diner on 57th Street in Midtown Manhattan, a stone's throw from Carnegie Hall, is scaffolding for the construction of the tallest residential building in the Western Hemisphere, Central Park Tower. Peer through that metal skeleton, though, and you can make out the words "painting," "architecture" and "sculpture" etched into the stone beneath it." Read more here.


The Art Students League Celebrates 125 Year Anniversary
of Landmark Building w/ Two-Day ST[art]UP Weekend Extravaganza
April 3, 2018:  The Art Students League will commemorate the 125th anniversary of the opening of their landmark building with ST[art]UP, a two-day celebration including exhibitions, auctions, art sales and experiential events on Friday, May 11 and Saturday, May 12. Read more here.
November 28, 2017:
Michael Rips has lived his life with a passion for the arts. He is a collector, patron, arts advocate, and author.
Read his bio here
. (At right, a detail of a painting by David Salle, depicting Michael Rips in black and white, 1998.)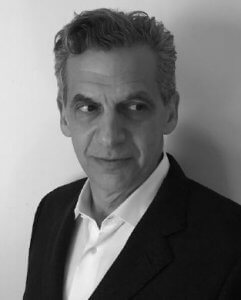 The Art Students League Appoints Michael Rips Executive Director
Prominent arts advocate, collector, and patron to lead iconic art school
November 28, 2017: The Art Students League of New York today announced that Michael Rips has been named Executive Director. Follow these links to read his press release and his bio. (At right, Michael Rips, the new Executive Director of the Art Students League of New York. Photo by Ric Ocasek.)
A Landmark Exhibition: An Alliance of Artists & Patrons on 57th Street
Celebrating 125 Years of the League's Landmark Home
November 7, 2017: Many of America's greatest artists have studied and taught at the Art Students League of New York. But the legendary school might not be teaching students today—indeed might not have made it into the 20th century—were it not for the vision of the men and women who worked together to develop the American Fine Arts Society (AFAS) building, the League's home on 57th Street since 1892.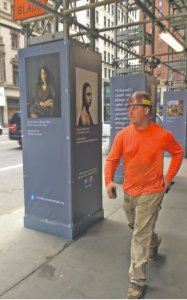 Now Open: The Art Students League of New York's "Art Under Construction" An Outdoor Gallery on 57th Street
June 27, 2017: The illustrious history and the contemporary vitality of the Art Students League is now on display in Art Under Construction, an innovative street gallery in front of the League's 125-year-old building on 57th Street. The gallery transforms scaffolding pillars into an exhibition of work by League alumni and current instructors. . . Read more here.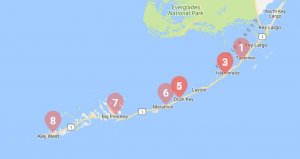 New Florida Keys Sculpture Trail Will Stretch From Islamorada to Key West
June 19, 2017: A musical wind tower, grand stone faces from the ancient world, and a REALLY big bird are just some of the artworks along the brand new Florida Keys Sculpture Trail. . . Read more here.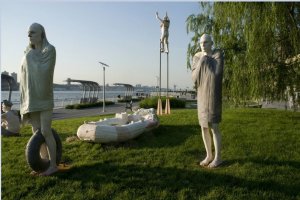 "A Summer of Sculpture" Exhibition At the Cathedral of Saint John the Divine
June 15, 2017: The Art Students League of New York, the National Sculpture Society, and the Cathedral of St. John the Divine are pleased to present "A Summer of Sculpture," which will showcase work by Greg Wyatt (Cathedral Artist-in-Residence and creator of the Cathedral's Peace Fountain), alongside a juried exhibition. . . Read more here.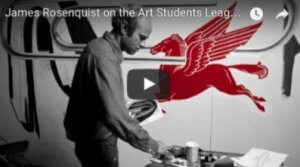 The League Mourns Former Student and Benefactor James Rosenquist
April 1, 2017: "Mr. Rosenquist radically changed the art world, creating seminal works in painting, collage, drawing, and printmaking," said Timothy J. Clark, interim executive director at the League. . . Read more here.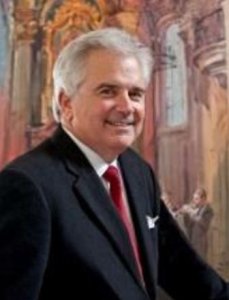 The Art Students League Names Timothy J. Clark As Interim Executive Director
January 19, 2017: The League has appointed Timothy J. Clark, nationally known artist and long-time Instructor at the League, as Interim Executive Director of the iconic 143-year-old art school. . . Read more here.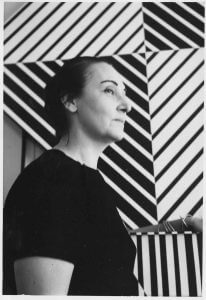 Special Lecture To Coincide with Whitney Museum's Retrospective Exhibition "Carmen Herrera: Lines of Sight"
October 26, 2016: The Art Students League's upcoming public lecture, "Carmen Herrera: The Story of Her Life and Art," will be hosted by artist and close friend of Herrera for over forty years, Tony Bechara. . . Read more here.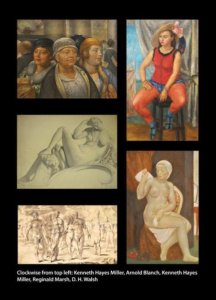 Modern Renaissance: The Fourteenth Street School
October 6, 2016: Pairing works by Fourteenth Street School artists with selections from the League's collection of classical life drawings, the exhibition highlights the impact of the academic tradition . . . Read more here.