These instructors have been granted the honor of emeritus status at the League. Each taught here for decades. Collectively they trained thousands of students how to paint, draw, and sculpt, and encouraged them to pursue their own artistic voices.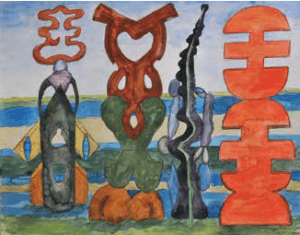 Richard Barnet
A sculptor, Richard Barnet has exhibited at Lincoln Center, Hudson River Museum, Anita Shapolsky Gallery, National Academy of Design, Five Points Gallery, Berta Walker Gallery, St. Mary's College (MD), Cooper Gallery, Walker-Kornbluth Gallery, Studio Atelier (Oyster Bay, NY), and the National Sculpture Society. From 2013 to 2015, he exhibited sculptures at Sideshow Gallery (Brooklyn, NY); at Greenhut Gallery (Portland, ME); William Holman Gallery (New York, NY); in Art From the Boros at Denise Bibro Fine Art (New York, NY); and in Transformations (2014) and Laws of Attraction (2015), both on Governors Island (New York, NY).
Mr. Barnet taught at the League from 1980 through 2017, and at the College of Mount Saint Vincent since 1970. He has also taught at New York University, SUNY Purchase, and the Pennsylvania Academy of Fine Arts. He studied at the League and at the National Academy of Design. He has a B.A. from Antioch College, an M.A. from New York University, and an M.F.A. from Lehman College, CUNY. He is an elected member of the National Sculpture Society and the Sculptors Guild. He is represented by 440 Gallery (Brooklyn, NY).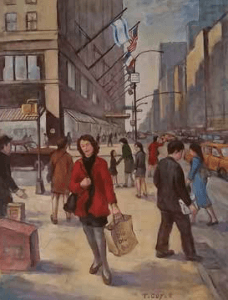 Terence Coyle (d. 2020)
Terence Coyle's painting After the Blizzard of 1996 was sold at Sotheby's, New York, in The New York Sale in April of 2015. His paintings are in many notable public and private collections, museums, and galleries throughout the country, including the Butler Institute of American Art, Museum of the City of New York, the New York State Museum in Albany and the National Academy of Design, Fordham University, the Museum of Performing Arts, the Berkshire Museum, and the Billy Rose Theatre Collection at Lincoln Center.
Mr. Coyle taught painting and figure drawing at the Art Students League from 1974 through 2017, and has also taught at the National Academy of Art and Design. He collaborated with the late Robert Beverly Hale on three books on anatomy and figure drawing: Anatomy Lessons from the Great Masters (Watson-Guptill); Master Class in Figure Drawing (Watson-Guptill); and Albinus on Anatomy (Dover). He also wrote, Terence Coyle, A Retrospective at 80 (Jo-An Books). Videos include The Painter's Mind (reviewed as an "Outstanding Video," Susan C. Awe, Library Journal).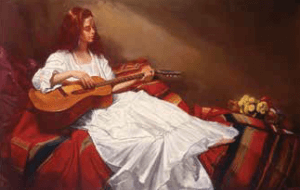 Jack Faragasso
"One must learn how to see, how to think, and how to do. Seeing is different than looking, for much of what we look at is illusionary. One must be made aware of these illusions and learn to see and paint nature correctly. This is accomplished with a completely related system where every aspect of drawing and painting is revealed and taught."
Since the dawn of civilization, man has always sought to express his interior artistic nature, which continues to this day. Technical advances and inventions threaten and have threatened to eliminate it, but art and artistic works continue to flourish. Whether you are doing computer art, photography, sculpture, or painting, a knowledge of and practicing of drawing and painting will help you become better in your endeavors. To this end, Jack Faragasso taught students of all levels the time-honored principles of realistically drawing and painting nature from 1968 through 2017 at the League.
Mr. Faragasso studied at the Art Students League and at its Woodstock summer school with the late Frank Reilly, with whom he learned how to paint landscapes and the figure outdoors. Mr. Faragasso is the author of the well-known and often referenced books, The Student's Guide To Painting and Mastering Drawing the Human Figure from Life, Memory, Imagination.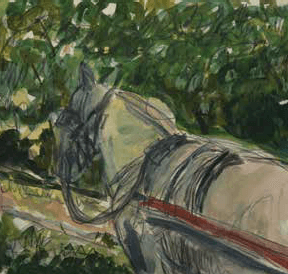 Cornelia Foss
"How Foss manages to extract exactitude out of arbitrariness is a secret we'll never know: suffice to say it's the hallmark of a 'natural,' as are Foss's breezy palette and terse yet somehow avuncular, brushstrokes. In her fluidity of stroke and format, Foss is finding herself a solidity of realist vision that looks to last the years. … Her struggle to both paint with formal freedom and 'get it right' is more than a little heroic," wrote critic Gerrit Henry, in a review in Art in America.
Cornelia Foss's work is in the permanent collections of the National Portrait Gallery, Washington, DC; the Houston Museum of Art, Houston, TX; the Guild Hall, East Hampton, NY; the Brooklyn Museum; the Wichita Art Museum; the Museum of Oklahoma; the Burchfield Art Center of SUNY, Buffalo, NY; the National Museum of Women in the Arts, Washington, DC; and the Huntington Museum, Long Island, NY, among other museums. Recently published is the book, Cornelia Foss: Ten Years of Paintings and Drawings 2003-2013.
Knox Martin
Knox Martin has said, "In order to make a work of art, you must know what art is! Essentially true art is revelation—not the illustration of revelation. One must teach without ego. You must be able to point to it and do it at will. That is called the thing! We teach doing the thing. If you as a student truly reach without reservation, you will know the thing. When this is clear, true art is perceived. The false will fade away. What remains is that which is fresh, unique, Eternal Dada!"
Mr. Martin has taught at the Graduate School of Art, Yale University; New York University; International School of Art, Italy; and Fort Rajgat, India. He has had many international exhibitions and has received numerous grants. He studied at The Art Students League of New York.
He is represented by Hollis Taggart.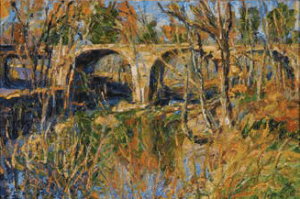 Kenneth McIndoe
Kenneth McIndoe was born in London, and he lived in Liberia and England before coming to the United States. He taught at the League from 1981 through 2017, and has also taught landscape workshops in Ireland, South Korea, Alaska, New York, and New Jersey. He received New Jersey State Council on the Arts Fellowships in 1987 and 2000. He has exhibited in the New Jersey State Artists Exhibition at the State Museum in Trenton, the New Jersey State Fellowships exhibition, and with the Street Painters in New York City.
"I studied with Robert Beverly Hale and Sidney Dickinson at the League and at the same time began to work outside in the urban and rural landscape. Those experiences continue to be a great source of discovery," notes Mr. McIndoe.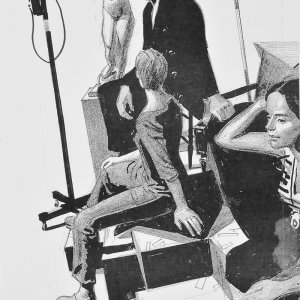 Oldrich Teply
Oldrich Teply has said, "Art is the embodiment, not of sheer internality, but of the self's whole being in the world. There is no dichotomy between the inner and outer world within which the artist lives—no cleavage between the knower and the known. Art as a frame of reference, as a mode of apprehension, is inclusive of being (existence) and becoming (growth and change), and is therefore absolutely essential to our development as whole selves and not to be considered frivolous and thereby relegated to a less important role in education."
Mr. Teply has won numerous awards, including the Strathmore Paper Award, which underwrote a traveling exhibition of his work. He received an award from the Portland Art Museum, in Portland, Oregon, which has a close working relationship with the Metropolitan Museum of Art. He is represented in many public and private collections. The U.S. Air Force commissioned him to paint four murals for its base in Wichita, Kansas. He has successfully combined a career in fine arts with illustration and art direction for a host of prestigious clients, including TIME magazine, Omega Watch Company, C. E. Lummus, Mobil Oil Company, Ciba-Geigy, Channel 13, Irving Trust, Gulf-Western, and Continental Insurance.