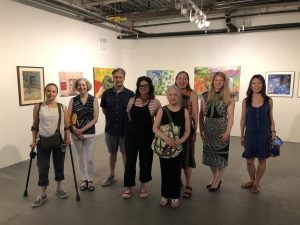 This Must Be The Place, 2021
About the Program
The Art Students League is committed to offering exhibition opportunities to our student/member artists. The League at Large is a program, formerly know as Exhibition Outreach, that displays the work of League artists in venues throughout the tristate area for viewing by hundreds of thousands of people.
Students gain experience entering their work in competition, preparing their work for display, and marketing their work for sale. Since its inception in 2006, The League at Large has placed works by more than 800 artists in more than 200 exhibitions.
League artists have exhibited at major venues and fairs, including the Affordable Art Fair, the Governors Island Art Fair (2012–2014). League artists have also participated in EOP public art events, including Sketch in the Park. Other exhibition venues have included AT Kearney, Squire Patton Boggs, ​NYIAC, and the Conference Board. Most recently, The League at Large has expanded its reach with institutional partnerships, including Riverside Park Conservancy, and a new collaboration with ChaShaMa.
Open Calls:
Applications for Searchlight are currently being reviewed. Selected artists will be notified by November 15
Applications for Affordable Art Fair NYC: Spring 2022 are currently being reviewed. Selected artists will be notified no later than Friday, December 10
We are currently accepting artwork submissions for MYTHOS. To see if you are eligible, and to apply, head to the Submittable form here:
Current Exhibitions:
Fire and Ice — On view now at 1 Brooklyn Bridge Park through December 14

Recent Exhibitions:
This Must Be The Place — July 1 — September 26, 2021
Primavera — April 1 – June 18, 2021
Rise — Affordable Art Fair NYC, May 20 – May 23, 2021
Become a Part of The League at Large:
Please join our email list for information on current EO opportunities and information on how to apply.
Artmakers: On Exhibit
Artmakers On Exhibit is a new video series which features artists from The League at Large program. What is that experience like, and what lessons do these artists take back to the studio? Visit The League's YouTube channel HERE to check out recent episodes and related videos
Become a Venue Partner
When our partners host an exhibit of diverse and powerful work by League artists, they enhance their everyday environment and demonstrate their support for the arts and for the community to their employees, clients and other visitors.
Contact Information
Please email Allison Green at [email protected]. For technical questions regarding submitting to an artist call, please contact the help desk at Submittable by clicking on the live chat or call (855) 467-8264. To check your membership status: Please call 212-247-4510 or email to [email protected]. Please make sure to have your 7 digit ID number ready.
Thank You to Our Donors
The League at Large is made possible through the generosity of the Arlene B. Coffey Trust, the Marilyn and Bob Laurie Foundation, and the Ruth Katzman Fund.