Workshop Description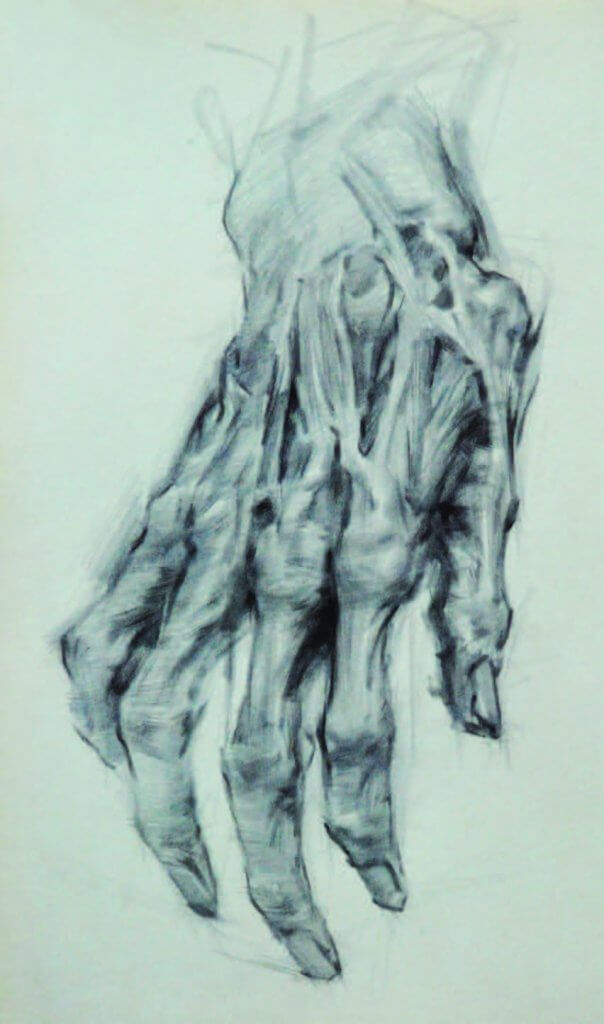 FEBRUARY 7–10
Friday–Monday
10:00 am – 3:00 pm
Fee: $800
Instructor present each day
Enrollment limited to 25 students
Please Request Supply List
Please note: Meets at Weill Cornell Gross Anatomy Laboratory
This course presents the study of anatomy as a convergence between anatomical and structural drawing. Motivated students of representational art will have unparalleled opportunities for developing detailed anatomical knowledge through their work in Cornell College of Medicine's anatomy lab, where they will explore the complexities of the body through the study of PROSECTIONS and cadavers. Prosections are specially prepared human anatomical specimens, wrapped in a damp preservative, as well as plastinated specimens, which allow for the study of deeper and more isolated anatomical structure. Through laboratory drawing, participating students will become more familiar with the manner of interlocking deeper forms – forms which are not typically clear on anatomical models (due to the haphazard ways that art school skeletons are wired together). Ultimately, students will work towards achieving greater anatomical clarity and validity in their drawing studies, which will be applied to creating higher quality figurative work in the visual arts, from a finer appreciation of human construction.
About the Instructor
Dan Thompson has been awarded extensively for his artwork, receiving the Grand Prize for Best of Show in the American Society of Portrait Artist's International Portrait Competition at the Metropolitan Museum of Art in New York, the Erlebacher Award from the New York Academy of Art, two Ethel Lorraine Bernstein Memorial Awards for Excellence in Painting from the Corcoran Gallery of Art, two Elizabeth Greenshields Foundation Grants, as well as many others. He has been designated a Living Master by the Art Renewal Center.
Mr. Thompson co-founded two schools of art in New York City: the Grand Central Academy of Art and the Janus Collaborative School of Art. He has served on the M.F.A. faculty of the New York Academy of Art for fifteen years, and is both a faculty member of Studio Incamminati and an associate of the Artistic Advisory Committee.
Mr. Thompson's work has been exhibited in public and private collections throughout the world, including the Eleanor Ettinger Gallery, John Pence Gallery, Arcadia Gallery, the Art Gallery of Ontario, the Corcoran Gallery of Art, the John Noble Museum, the Pasadena Museum of California Art, the National Arts Club, the United States Capitol and Beijing's World Art Museum.