Sidewalk Pick-Up & In-Person Shopping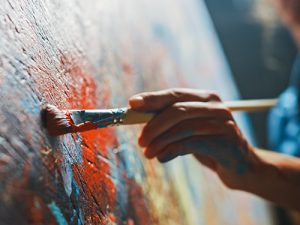 See all four ways of shopping at The League's store below! You can shop online with sidewalk pick-up, or visit the store in-person. View complete details below!
Your NYC Art Supply Store in Midtown Manhattan
The League's NYC Art Supply Store is located in the lobby of the famous Art Students League of New York in Midtown at 215 West 57th Street, between Seventh Avenue and Broadway. Now everyone can take advantage of the same convenience, helpful service, and low prices that demanding fine art students at The League have enjoyed for more than 100 years.
What We Have
The League's Art Supply Store specializes in fine art supplies in drawing, painting, sculpting, and printmaking. Our staff are all knowledgeable studio artists who can help you with your selections. The store also offers a range of other useful items (and gift ideas!), including art-related books, t-shirts, aprons, hats, and mugs. Gift certificates are also available for purchase. Please see the inventory list linked below for a complete list of items:
4 Easy Ways to Place Your Order:
1) Download the Inventory List and Order Form, and send your completed order form to:
[email protected]
2) Review the Inventory List and email us the Product Number, Product description and Quantity to:
[email protected]. Please also include your full name and phone number.
3) Review the Inventory List and call us at: 212.247.4510 with your order.
4) Come to The League and shop in person!
We will be open Monday to Friday 8:30am to 7:00pm. Social distancing and League protocols will be in effect. Inquire at the door. No more than one customer in the store at a time. Masks are mandatory at all times while in the building. No one will be permitted in The League without one.
Please allow 48 hours to process all online and phone orders. We will phone you for your credit card information once the order is ready for sidewalk pickup. You will need your order number to collect your items at the door of The Art Students League.
Hours:

Monday thru Friday
8:30am to 8:30pm
Saturday and Sunday
8:30am to 4:30 pm

Holiday Closings:
Labor Day, Sep. 6
Yom Kippur, Sep. 16
Thanksgiving Day
Christmas Day
New Years Day
President's Day, Feb. 15

Email:
[email protected]

Tel:
212.247.4510
Save