The Art Students League of New York Lobby
November 4—December 31, 2021
The Art Students League of New York is pleased to announce the appointment of Jillian Russo as our first annual Curator at Large. Jillian will be curating a series of exhibitions on League Lineages in our lobby at 215 W. 57th Street starting this November. Each exhibition will run for approximately 6—8 weeks. These artistic through lines capture dialogues and movements that defined the development of American art from the late nineteenth-century to the present. Our inaugural exhibition takes famed painter and printmaker Will Barnet (1911-2012) as a starting point. The works on view illustrate the legacy of Barnet's ideas about space and form, which he noted in a 1993 interview, include "the question of the space between two major forms. The intermediate form."
Barnet's students, printmaker and sculptor Terry Haass, who worked at the renowned printmaking studio Atelier 17, and Abstract Expressionist painter Knox Martin, take their own approach to intermediate forms. Haass's shapes float, suspended in, and sometimes penetrated by, the space around them. Martin finds compositional rhythm in collage-like images that bring together Pop-art inspired pattern, gestural brushwork, and figurative elements. In turn, Martin's students, Ezra Cohen and Natsuki Takauji continue to explore the interplay of form and void.
A student of League Instructor Stuart Davis, Barnet's practice strove to encompass classical and modernist themes. His flattened, emblematic images spanned the modes of figuration and abstraction, often integrating the two with crisp shapes and a poetic use of color. Barnet noted, "I never wanted to destroy the modern idea—like Cezanne said he wanted a link between himself and tradition.  I never wanted to destroy that link; I wanted that link to be solid."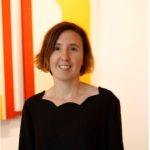 Jillian Russo is a Brooklyn-based curator and art historian. She served as Curator for the Art Students League from 2013-2018 and as Director of Exhibitions at Hollis Taggart from 2019-2021. She has organized numerous exhibitions including Remnant Romance: Environmental Works, Idelle Weber and Aurora Robson, Knox Martin: Radical Structures, The Masters: Art Students League Teachers and their Students, and On the Front Lines: Military Veterans at the Art Students League of New York. She is a contributor to the Brooklyn Rail and has written articles for American Quarterly, CAA Reviews, and Panorama. She received her PhD in American art from the Graduate Center, CUNY.
Jillian Russo: "I am thrilled to inaugurate the Art Student League's newly-created position of Curator at Large. I look forward to drawing upon my knowledge of The League's historic permanent collection and building upon my previous collaborations with students and faculty to organize compelling exhibitions of both historic and contemporary art. Going forward I hope the position will bring fresh curatorial perspectives to The League and spotlight the exceptional work being done by students, instructors, and alumni."
During the summer The League will host four exhibitions curated by Jillian: The 2022 Final Project Exhibition of work by our graduating Certificate Students, The 2022 Juried Student Salons Winners exhibitions, as well as the Merit Scholarship Winners and Grant Winners exhibitions.
.

Will Barnet, Circe II
1980, Ink on paper, serigraph, 31 ½ x 23 inches, The Art Students League of NY, Permanent Collection

Will Barnet, Celebration
Ink on paper, lithograph, 30 x 22 ¼ inches, The Art Students League of NY, Permanent Collection

Terry Haass, Projections
1948, Ink on paper, engraving, 17 x 13 ½ inches, The Art Students League of NY, Permanent Collection

Knox Martin, Woman with Folded Hands
2015, Acrylic on linen, 25 ¼ x 24 inches, The Art Students League of NY, Permanent Collection

Ezra Cohen, Home
2020, Oil on canvas, 24 x 36 inches, Courtesy of the Artist

Natsuki Takauji, Whoyou
2012, Acrylic on canvas, 38 x 26 x 6 inches, Private Collection, New York






Featured Image: Will Barnet, Celebration, Lithograph, 30" x 22 ¼", Permanent Collection of The Art Students League