Guest Curated by Samuel Rowlett
January 6, 2022–March 10, 2022
*Please note: Searchlight will be closed to visitors Saturday, 2/5/22 and on Sundays for the time being.
We apologize for the inconvenience. Please email [email protected] with any questions.
One Brooklyn Bridge Park
360 Furman Street, Brooklyn
(Waterfront side between Piers 5 and 6)
Wednesday–Saturday, 10 AM–6 PM, Sunday, 12 PM–4 PM
In Searchlight, their first student exhibition of 2022, The Art Students League's Exhibition Outreach program, in partnership with ChaShaMa, will feature 25 artists exploring themes of mystery and magic of light source. Guest Curator Samuel Rowlett, a League alumnus who also studied with instructors Jerry Weiss and Dan Gheno at the Lyme Academy in Old Lyme, Connecticut, reviewed over 400 individual artworks and artist's statements before selecting at the 25 artworks that will be exhibited. Searchlight is focused on the mystery and magic of light, and works in the exhibition play in a range of shadowed depths and colorful surfaces, taking viewers from the small quiet space of a computer screen to the vast landscape of an entire world. A glowing thread weaves its way through each work on view; it runs through a cloud-covered sun in winter and chases a pair of friends ambling through a forest. Light, and the ways in which it can be filtered and interpreted, appears before us in steel thorns, in driftwood textured with beeswax, even in rich abstractions. What is this guiding light in search of? Where will it take us? Visit One Brooklyn Bridge Park for the opening on January 6, 2022, follow it, and find out.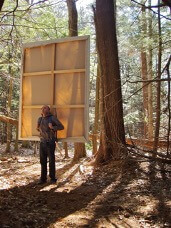 About The Curator: Drawing parallels between explorer and artist, Samuel Rowlett makes work that utilizes the materials and techniques of traditional painting through which to explore forms and concepts of various social and natural environments. Samuel Rowlett has exhibited widely including exhibitions at MASS MoCA's kidspace/teenspace in North Adams, MA; Real Art Ways in Hartford, CT; The Arts Center of the Capital Region in Troy, NY; Dorsky Gallery Curatorial Projects, New York, NY; the Boston Center for the Arts, Boston, MA; and Nuit Blanche Art Festival, Toronto, Canada. Rowlett's work has been featured in The New York Times, The Boston Globe, The New York Observer, The Hartford Courant, Hyperallergic, Connecticut Public Radio, and Canadian Art magazine. Rowlett holds an MFA from Cranbrook Academy of Art, Bloomfield Hills, MI, a BFA from Pacific Northwest College of Art, Portland, OR, and has received fellowships/residencies from Yale University School of Art, Massachusetts Museum of Contemporary Art (MASS MoCA), Vermont Studio Center, and Massachusetts Cultural Council. Rowlett has taught workshops at Yale University, Amherst College, New Hampshire Institute of Art, Northern Vermont University, and Interlochen Arts Academy. Born in Leicester, England, now in Western Massachusetts, Rowlett is Associate Professor of Art at Landmark College in Putney, Vermont.
Featured Artists:
Elizabeth Hasegawa Agresta, Susana Aldanondo, Dianne Athey, Tamera Bedford, Aiko Cascio, Laura Winn Clark, Katia Gerasimov, Yolande Heijnen, Miho Hiranouchi, Ruth Hurd, Willie Jimenez, Anna Kraske, Clarita Liepolt, Boris Lyubner, Ava Mcnamee, Susan Markowitz Meredith, Margaret Montgomery, Luis Romero, Toussaint Rosefort, Esther Schwalb, Maren Smay, Bonnie Steinsnyder, Patricia Talbot, Paul Vogel, Lin Yang

Elizabeth Hasegawa Agresta, Changing Tides
2021, acrylic on canvas, 18" x 40"

Susana Aldanondo, A New Way
2021, acrylic on canvas, 24" x 20"

Dianne Athey, Prom Night
2013, oil on canvas, 36" x 30"

Tamera Bedford, Follow Me
2020, acrylic on linen, 37" x 34"

Aiko Cascio, East River
2021, watercolor, 27" x 39"

Laura Winn Clark, Friendship
2021, oil on linen, 63" x 83"

Katia Gerasimov, Hope
2017, oil on canvas, 24" x 20"

Yolande Heijnen, Searching Light
2021, acrylic on canvas, 18" x 18"

Miho Hiranouchi, Being
2021, watercolor, charcoal, pastel, oil ink, 22" x 48"

Ruth Hurd, Peaceful
2021, acrylic on raw canvas, 16" x 20"

Willie Jimenez, Memento Mori
2021, oil on wood panel, 9" x 12"

Anna Kraske, Computer Portrait 2
2018, oil on canvas, 16" x 20"

Clarita Liepolt, Look Towards Infinity
2021, driftwood with mineral pigment and bee wax , 36" x 8" x 5"

Boris Lyubner, Vinegar Hill
2020, oil on paper, 24" x 36"

Ava Mcnamee, El Camino
2021, acrylic on canvas, 59" x 48"

Susan Markowitz Meredith, Sky Dance
2018, basswood, 11" x 17" x 9"

Margaret Montgomery, Cyclone, Coney Island
2018, watercolor and gouache on paper, 32" x 44"

Luis Romero, Ancestral Intelligence
2021, acrylic on canvas, 47" x 78"

Toussaint Rosefort, Fire In The Night I
2021, acrylic on canvas, 48" x 36"

Esther Schwalb, Acadia Serenity II
2020, linoleum print, 16" x 20"

Maren Smay, Foundations
2021, acrylic on canvas, 30" x 30"

Bonnie Steinsnyder, Grand Entrance Through The Beaded Curtain
2021, watercolor, 12" x 16"

Patricia Talbot, No 728 Protection
2019, steel, 5" x 10" x 8"

Paul Vogel, Ivory Field
2021, acrylic on panel, 8" x 8"

Lin Yang, Companion
2021, oil on canvas, 38" x 42"

























Image Credit: Miho Hiranouchi, Being, 2021. Watercolor, charcoal, pastel, oil ink, 22 x 48 in.