Showcasing Students of e-telier™.February–June, 2022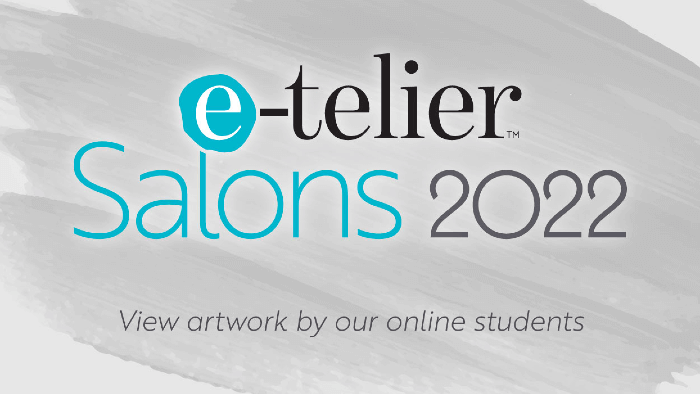 e-telier™ offers online, atelier-style art classes from the Art Students League of New York. This year, for the first time ever, The League is pleased to announce our e-telier Student Salons, a series of monthly virtual exhibitions highlighting the work of our e-telier students. The exhibitions include work from every discipline taught on e-telier (including painting, drawing, printmaking, sculpture, and mixed media) and are rotated monthly, with several classes included in each installment.
e-telier Student Salons offer the opportunity to become familiar with the work created by e-telier students as well as discover new work by artists in the early stages of their careers. The shows are curated by League instructors. Enjoy.

June 1, 2022

Student's Work
Instructor
Class Name
On View
Dominque Medici
Portrait and Figure Drawing for Beginners
Dominique Medici
Portrait and Figure Painting with a Limited Palette
Ricky Mujica
Oil Painting for All Levels
Charles Nitzberg
Fashion Drawing
Frank O'Cain
Critiques, Museum Visits and Spontaneous Lectures (Mon)
Frank O'Cain
Critiques, Museum Visits and Spontaneous Lectures (Thurs)
Karen O'Neil
Beginning Still Life Painting
Karen O'Neil
Painting Still Life Advance
Doug Safranek
Painting in Egg Tempera
Kamilla Talbot
Landscape Painting as Metaphor
Deborah Winiarski
Mixed Media, Collage, Painting and Dimensional Art (AM)
Deborah Winiarski
Mixed Media, Collage, Painting and Dimensional Art (PM)
May 1, 2022

Student's Work
Instructor
Class Name
On View
Silya Kiese
Conceptual Art
Silya Kiese
Art and Writing
Gregg Kreutz
Oil Painting Essentials
Ronnie Landfield
Drawing, Painting, Color, Design
Michele Liebler
Beginning Drawing and Painting (Wed & Sat)
Michele Liebler
Beginning Drawing and Painting (Thur)
Pat Lipsky
Painting with Emphasis on 20th & 21st Century
Margaret McCann
Painting, Composition, Color
Thomas Torak
Portraiture and Figure Painting in Oil
Costa Vavagiakis
Life Drawing, Anatomy for Artists
April 1, 2022

Student's Work
Instructor
Class Name
On View
Augustine Boyce Cummings
Contemporary Art: Diversity, Inclusion and Activism
Marcelo Daldoce
The Figure in Watercolor
Elizabeth Demaray
Conceptual Art
Jon deMartin
The Basic Elements of Classical Figure Drawing
Lisa Dinhofer
Color Theory with colored pencils
Bruce Dorfman
Combined Media, Assemblage, Art in Three Dimensions AM Class
Bruce Dorfman
Combined Media, Assemblage, Art in Three Dimensions PM Class
Ellen Eagle
Painting the Portrait and Figure in Pastel
Michiyo Fukushima
Transparent Watercolor
Leonid Gervits
Painting from Life Portraiture, Composition
Peter Golfinopoulos & Donna Mitchell
Drawing and Painting
Yuka Imata
Portrait Painting
Yuka Imata
Portrait Drawing
March 1, 2022

Student's Work
Instructor
Class Name
On View
Garin Baker
Introduction to Figure Painting
Hugo Bastidas
Art Theory and Criticism
Naomi Campbell
Expressive Figure Watercolor Painting
Dionisio Cimarelli
Stone Carving & Sculpture
Janet Cook
Painting from Life & Digital Media: Portraiture
Sylvie Covey
Printmaking Without a Press
Christopher Gallego
Advanced Drawing, Painting, Composition
Eric March
Fundamentals of Drawing
Wendy Shalen
Portfolio Development: Drawing and Painting from Life
Bennett Vadnais
Master Copy Class
February 1, 2022

Student's Work
Instructor
Class Name
On View
Elizabeth Allison
Expressive Watercolor
Martha Bloom
Assemblage, Collage, Painting, Drawing, Mixed Media
Peter Bonner
Abstraction, Inspiration & Development of Ideas (Thurs)
Peter Bonner
Abstraction, Inspiration & Development of Ideas
Michael Burban
Elements of Figure Drawing, Anatomy
Susan Cirigliano
Children's Class: 8-12 Years Old
Greg Follender
Intensive Figure Drawing
Marilyn J. Friedman
Young Artists Class: Ages 8-12 Sunday
Wendy Shalen
Portfolio Development: Drawing and Painting from Life
Wendy Shalen
Line, Tone, Color in the Figure (with Self-Portraiture)
John Varriano
Portrait Drawing
Jason Yarmosky
Drawing the Portrait with Light