Join us on Facebook LIVE, Thursday, June 24th from 6pm – 7pm for a conversation on 19th- and 20th-century League instructor Frank Vincent DuMond and his prismatic palette.  
This event is free and open to the public:
About The Event:
On June 19, 2021, Lyman Allyn Art Museum will open the exhibition The Prismatic Palette: Frank Vincent DuMond and His Students, which examines the art and legacy of Frank Vincent DuMond (1865–1951). DuMond is known for his lush green landscapes and for the important role he played in the Old Lyme art colony in the early twentieth century. He taught at The Art Students League for nearly sixty years, instructing multiple generations of artists, including such notable figures as John Marin, Georgia O'Keeffe, and Norman Rockwell.
In this program, Lyman Allyn Art Museum curator Tanya Pohrt will host a conversation on DuMond's contribution to American art and art education, and the enduring impact of what has become known as the "prismatic palette." DuMond's teachings have traversed several generations at The League; following his death in 1951, his advanced student Frank Mason was elected by League students to become their instructor. Mason taught in at The League until the beginning of the twenty-first century, and Studio 7, where he taught, remains in use by League instructors and students who study DuMond's techniques to this day. To explore the inheritance and evolution of DuMond's teachings within a single historic studio at The League, Tanya will be joined by current League instructors John Varriano and Thomas Torak to discuss DuMond's continued influence and the use of his palette today.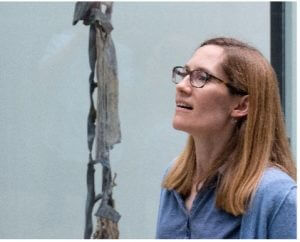 Tanya Pohrt: Curator Tanya Pohrt has worked at the Lyman Allyn Art Museum in New London, Connecticut since 2015, curating a range of exhibitions. She holds a Ph.D. in art history from the University of Delaware and was previously a Marcia Brady Tucker Curatorial Fellow in American Paintings & Sculpture at the Yale University Art Gallery.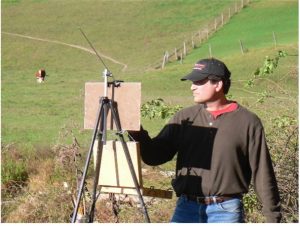 John Varriano: John A. Varriano is a respected and award-winning representational artist for over 25 years. As an artist and instructor, John focuses on how to carefully observe nature and expressively translate the language of light into the language of paint. He studied at The Art Students League of NY with Frank Mason and Gustave Rehberger. His numerous awards include the 2016 AAPL Alden Bryan Memorial Award for Traditional Landscape and the 2015 Allied Artists of America 'Florence and Ernest Thorne Memorial Award' for his portrait work. John was one of 20 artists chosen to display work in the International Fine Art Exhibition at Agora Galley in Chelsea, NY. He has been featured in numerous publications such as Fine Art Connoisseur and was profiled in a November, 2017 issue of Plein Air Magazine.
John served on the Board of Directors of the Art Students League for several years and was President in 2005 and 2006. He currently serves as a trustee for Artists' Fellowship. John is a member of the Salmugundi Club, the Portrait Society of America and the Allied Artists of America, and previously served as a board member of the Hudson Valley Art Association. John is an instructor of painting and drawing at the Art Students League of New York and The Woodstock School of Art. He teaches landscape painting, figure drawing and prismatic palette workshops in New York and New Jersey.  John's portrait commissions are in numerous private and public collections, including the Yale Club in NYC.  He is represented by Mark Gruber Gallery in New Paltz, NY and Lockwood Gallery in Kingston, NY.
Follow @johnavarriano on Instagram.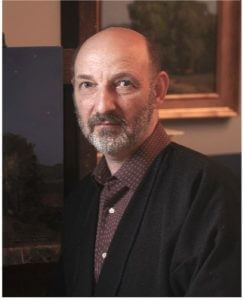 Thomas Torak: Thomas Torak is a modern master painter working in the classical tradition. His paintings are known for their breadth and luminosity, rich color, and lively brushwork. In 2008 he was invited join the staff of The Art Students League of New York as an instructor of portraiture and figure painting. His paintings have been recognized with the American Artists Professional League Medal of Honor, the Audubon Artists Gold Medal of Honor, the Allied Artists of America Silver Medal of Honor, and the Academic Artists Gold Medal. His painting, The Artist, was purchased by the Masur Museum of Art in Monroe, LA for their permanent collection and his painting Onions is in the permanent collection of The Art Students League. Mr. Torak's paintings have been seen at the Butler Institute of American Art, the Gilcrease Museum, the Springfield Museum of Fine Art, the Huntsville Museum of Art, the Bergstrom-Mahler Museum, the San Diego Art Institute, and the National Academy Museum.
His paintings can be seen on his website thomastorak.com.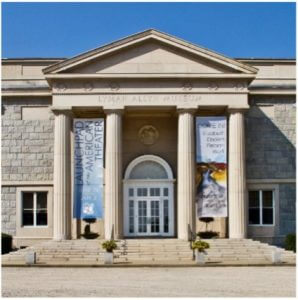 About the Lyman Allyn Art Museum:
Located in New London, Connecticut, the Lyman Allyn Art Museum holds over 17,000 objects in its permanent collection and has been open to the public since 1932. The museum features permanent collection galleries of American art and a range of special exhibitions. Our goal is to reveal the power of art with thought-provoking exhibitions and dynamic programs in and around our historic buildings and grounds. Current exhibitions include: Memories & Inspiration: The Kerry and C. Betty Davis Collection of African American Art – On view May 29 – August 22, 2021; Forest Dreaming/Sculptures and Paintings by Ana Flores – On view June 12 – October 24, 2021; and The Prismatic Palette: Frank Vincent DuMond and His Students – On view June 19 – October 3, 2021.
Learn more at https://www.lymanallyn.org/