In conjunction with our upcoming special exhibit, Creating Community. Cinque Gallery Artists (May 3-July 4, 2021), The Art Students League public programming for spring 2021 presents the Cinque Gallery Interview Series.
Program Curator Nanette Carter interviews several of the artists who exhibited at Cinque gallery and who will also participate in the upcoming exhibition. In this presentation she will talk about her own experiences with Cinque Gallery and the community as well as present her own creative practice and artwork.
The Cinque Gallery was founded in 1969 by artists and League alumni, Romare Bearden (1911–1988), Ernest Crichlow (1914–2005), and Norman Lewis (1909–1979) to exhibit the work of both new and established African–American artists, and to provide community educational programs. The gallery was named after Joseph Cinqué, the leader of the Amistad slave ship mutiny of the 1830s. For more than three decades, Cinque sponsored more than 300 exhibitions in a number of New York City venues. This ground-breaking exhibition will celebrate a diverse selection of late twentieth century and contemporary artists who participated from 1969 – 2004 in this pioneering artist collaborative enterprise. The Art Students League and The Romare Bearden Foundation have partnered to present.

Nanette Carter, Guest Program Curator,
Nanette Carter majored in Studio Art and Art History at Oberlin College in Ohio and received her BA in 1976. During her junior year she studied abroad in Italy and traveled extensively in Europe.
When she returned Nanette studied at Pratt Institute of Art and received her MFA 1978. For the last 19 years she has taught at Pratt and today she is an Adjunct Associate Professor of Art and teaches Drawing/ Mixed Media courses. Over the years she has received many Awards, Grants, Residencies and Fellowships. Her first residency was with Cinque in 1984. Which lead to a sholo show in 1985. Later she was the first woman to be invited to be on the Cinque Artistic Board which consisted of all black artists.
Her works are in many Museums and Corporate Collections across the country. She has had solo shows in Cuba, Japan, Italy, Syria and across the United States and she is currently represented by Skoto Gallery in Chelsea and Ami Kanoko Gallery in Japan. Website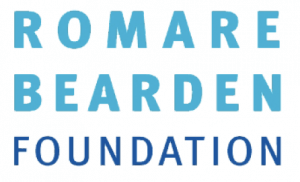 Thank you to our institutional partner The Romare Bearden Foundation for their support.
Thank you to NYC Cultural Affairs for their support.