In a joint presentation, sculptor Meredith Bergmann and retired FDNY Captain and Monumental Women Board Member, Brenda Berkman, unveil the story of how Meredith Bergmann's work, the Women's Rights Pioneers Monument, featuring Susan B. Anthony, Sojourner Truth, and Elizabeth Cady Stanton, came to be the first monument to real women in Central Park's 167-year history. Both speakers describe the journeys that brought them to study at The Art Students League. They will discuss the many obstacles and ultimate triumph of their shared and historic project: the unveiling of the Women's Rights Pioneers Monument in Central Park, August 26, 2020. This date marked the centennial of the 19th amendment, which wrote women's right to vote into the US Constitution.
About Meredith Bergmann: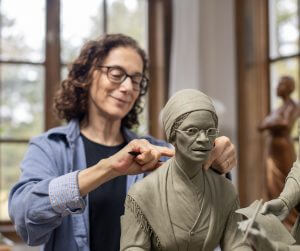 Meredith Bergmann makes art that deals with complex themes in an accessible, beautiful, and provocative way. Working within the tradition of narrative sculpture, she draws on her love of the history of art, literature, and mythology to make the past speak to the present. Blending the sensuality and power of representational sculpture with her own subtle sense of mischief, her art evokes multilayered responses.
She works both on public monuments and on a private scale, exploring issues of history, social justice, race, human rights, disabilities, and the power of poetry and music. Her art has been shown in more than two dozen exhibitions and appears in 10 institutional collections. Her public commissions include the Women's Rights Pioneers Monument for NYC's Central Park, the Boston Women's Memorial on Commonwealth Avenue in Boston's Back Bay, and her bronze Memorial to September 11th for the Cathedral of St. John the Divine, NYC. She is currently completing the FDR Hope Memorial for Roosevelt Island, NYC. Meredith's articles, essays, reviews, and poems have been published widely, and she has been Production Designer for five feature films.  Meredith's works can be viewed on her website
About Brenda Berkman: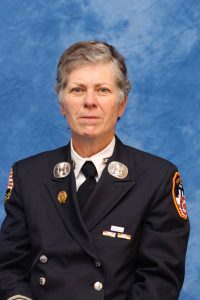 In 1982, Brenda Berkman won her landmark sex discrimination case against the New York City Fire Department and became one of the FDNY's first women firefighters. For 25 years, she served the City as a firefighter and fire officer, rising to the rank of Captain. She continues to mentor girls and young women both in firefighting and other non-traditional work. View the PBS documentary on her career, "Taking the Heat"
On retiring from the FDNY in 2006, Brenda began printmaking at the Art Students League, where she quickly fell in love with stone lithography and collaborating with fellow League artists. Several of her works commemorate benchmark anniversaries of 9/11, including a 10th anniversary group of works with 12 fellow League artists, later collected and exhibited by The League and a project for the 15th anniversary, "Thirty-six Views of One World Trade Center." This series was collected by the 9/11 Memorial and Museum (where Brenda volunteers) and will be the subject of a solo exhibition at St. Olaf College on the occasion of the 20th anniversary of 9/11. View additional works on her website
Berkman serves on the Board of Directors of Monumental Women (MW). In addition to her work coordinating the unveiling of Women's Rights Pioneers Monument (WRPM), Berkman also coordinated MW's Talking Statues project for the WRPM, an app featuring the voices of Meryl Streep, Jane Alexander and Viola Davis (English), and Rita Moreno, America Ferrara and Zoe Saldana (Spanish).
About Monumental Women:
Monumental Women (MW) is an organization dedicated to honoring women and people of color in public spaces and is the group that both Bergmann and Berkman worked with to carry out the project of establishing Bergmann's Women's Rights Pioneers Memorial in Central Park.
MW's next projects include a "toolkit" to help more communities honor women in public spaces and a 5-borough Women's Rights History Trail. The August 26th, 2020 unveiling ceremony can be watched on the MW website.
For questions regarding this event, please email Allison at [email protected]